Rio considers dumping stake in Pebble mine's owner Northern Dynasty
Rio considers dumping stake in Pebble mine's owner Northern Dynasty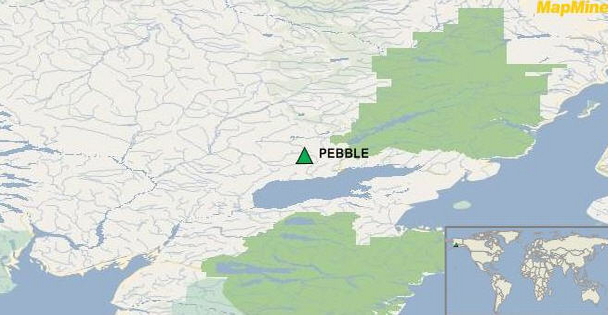 Global miner Rio Tinto (ASX,LON: RIO) revealed Monday it is contemplating the sale of its 19.1% stake in Canada's Northern Dynasty (TSX:NDM), the sole owner of the undeveloped Pebble copper-gold project in Alaska since Anglo American (LON:AAL) ditched it last September.
The news come less than a week after Rio's Chief Executive Officer Sam Walsh announced he was is charting a course to potentially bolster cash returns to investors in the world's second-biggest mining company after cutting $2 billion of costs ahead of schedule.
"Rio Tinto has advised the management of Northern Dynasty Minerals … that it intends to undertake a strategic review, including a possible divestment, of its shareholding in Northern Dynasty," said Rio in a statement.
Over the past year the Pebble mine has attracted a lot of unwanted interest. Environmental groups have fiercely opposed the mine over fears that it would endanger fish populations and other wildlife.
Proponents of the mine argue that Alaska is in desperate need of the estimated 15,000 jobs the project would provide and the $400 million boost it would give to Alaska's annual gross state product.
The Pebble deposit holds an estimated 55 billion pounds of copper and 67 million ounces of gold.

News from