Name: Perry Tan
Tel: 0086-731-84077805
Fax: 0086-731-84072772
E-mail: csdrillingtools@vip.126.com
E-mail: info@csdrillingtools.com
Add: 5# Panpan road, economic development zone, Changsha, Hunan, China. Zip 410100
Skype: csdrillingtools
QQ: 2522716948





Product name : Water Swivel

Item : 20131118134039
Details:
Water Swivel
Designed to meet the high drilling in speed of wireline core exploration, our water swivels have following features: tight, small volume, light, easy maintenance, single action and good seal.
Our water swivel could cooperate with Q series drilling tools within 1500m drilling application
The water swivel is mainly used in the geological exploration, and it is mainly comprised of high-pressure sealing rings, core tubes and spindle.
It is available with different threads and mountings, and capable o being used in supplying of high-pressure water, coolant, slurry etc.
All water well drilling swivels that we use are manufactured with precision sealed ball bearings, offering greater performance and longevity over swivels with plain bushings.
Water Well Drilling Swivels are designed to flush cuttings away from the drill bit either by air or water. The 200M and 300M have a maximum operating pressure of 90 psi.
Main Features:
1. High efficiency and long service lifespan are always available for this water swivel.
2. high-quality materials and thread treatment have been used in its manufacture.
3. Its automatically adjustable sealing ring is capable of guaranteeing normal operation of water-suppling rod.
4. Transverse device is equipped for it.
5. It features compact frame and light weight.
6. It is easy to work together with common tools.
Specification:
1): water swivel is widely used in hydroelectric irrigation water paddle and tunnel drilling, which can meet the needs of drilling below 300m.
2): water swivel is small, reasonable amount of rotation consistent, high-speed situations, high stability, especially good sealing effect, to meet the needs of 300-1500 meters drilled.
3): water connectors with Type 02 benefits through high water, drilling and coal to meet the needs of 1000-2200 meters drilled.
4): water connection for more than 110 large-diameter deep-hole drilling needs
Water swivel component details
| | | |
| --- | --- | --- |
| Code | Name | Remark |
| 1 | Elbow | |
| 2 | Spindle nut | |
| 3 | Washer | |
| 4 | O ring | 46 * 2.5 |
| 5 | Upper swivel body | |
| 6 | Spring | |
| 7 | Swivel packing | |
| 8 | Water tube | |
| 9 | V seal (set) | 40 * 6.5 |
| 10 | O ring | 22 * 2.5 |
| 11 | Thrust bearing | |
| 12 | Spindle | |
| 13 | Thrust bearing | |
| 14 | Base | |
| 15 | Packing housing | |
| 16 | Thrust bearing | |
| 17 | Retaining ring | |
| 18 | Lower swivel body | |
| 19 | Base casing | |
| 20 | O ring | 22 * 2.5 |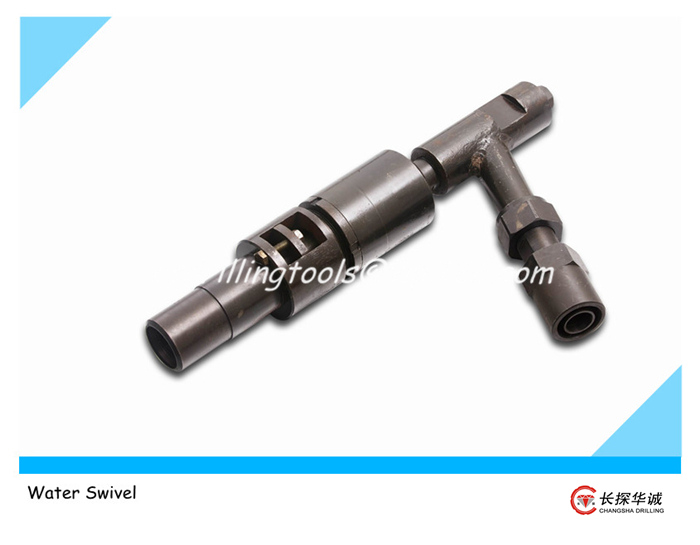 25K water swivel and 40K water swivel available