XY-5 Surface Coring Rig
Product No.:2016729103627
XY-5 Surface Coring Rig
Description
XY-5 Drill rig is a new core drilling equipment applied to diamond drilling and a number of new drilling techniques. It is also well suited to engineering geological exploration, small-scale water well drilling and engineering construction for highway, railroad, hydropower, harbor, etc.
Features
1: a wide rotational speed range (12 speeds, 41 to 1070rpm) is available for this core drilling equipment to satisfy demands of diamond coring drill, directional drilling, rotary percussion drilling, reverse circulation continuous sampling, etc.
2: large output torque, strong drilling capacity and wide applications
3: connecting rod reinforcement spring clamp and hydraulic chuck allow large clamping force, long service life and reliable performance.
4: hydromatic brake and dual oil pump hydraulic system can reduce heating of system and meet needs of various operations
5: equipped with automatic transmission, clutch, universal drive shaft and other high quality general parts, this drill rig enjoys long service life as well as easy movement and replacement
6: custom monitoring and alarming capacity of parameter, including torque, drilling pressure, speed, pump pressure, etc. helps to prevent and reduce drilling accidents of core driller
7: diesel engine or electromotor is available according to users' actual demands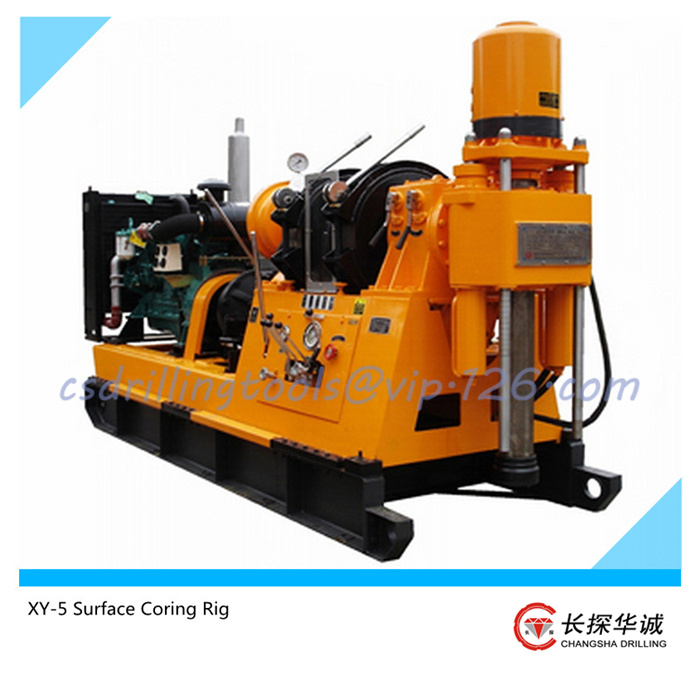 Specification
Model

XY-5 Drilling Machine

Drilling depth (m)

BQ drill rod

NQ drill rod

HQ drill rod

1750

1350

1000

Power

Electromotor

Diesel engine YC6B100-D20

55 (45) KW

70KW

Spindle

Rotational speed (r/min)

FWD: 41; 69; 115; 134; 189; 222; 270; 332; 371; 610; 871; 1071

REV: 46; 141

Spindle diameter (mm)

93

Drilling angle

0°~ 360°

Max. torque (Nm)

5200 (69r/min)

Feeding system

Type

Dual-cylinder feeding

Hoist capacity (KN)

140 (rated)

Pressure capacity (KN)

96 (rated)

Feed stroke (mm)

600

Winch

Single rope hoist capacity (KN)

Max. 55

Hoist speed (m/s)

0.76; 1.29; 2.1; 3.0; 3.85

Wire rope diameter (mm)

20

Wire rope capacity (m)

100

Oil cylinder stroke (mm)

500

Dimension (L*W*H) (mm)

3680 * 1120 * 1960 (with electromotor)

3900 * 1120 * 1960 (with diesel engine)

Weight (kgs)

3500