GY-200-1DT Wireline Chuck Drilling Rig
Product No.:2013111517243
GY-200-1DT Wireline Chuck Drilling Rig
GY-200-1DT drilling rig is a multiple usage engineering drilling rig with large spindle installed, which is very good for geological survey and mineral exploration drilling, this drilling rig can directly work with different wire-line drill rod(BQ/NQ/HQ/PQ) and the drive rod is not needed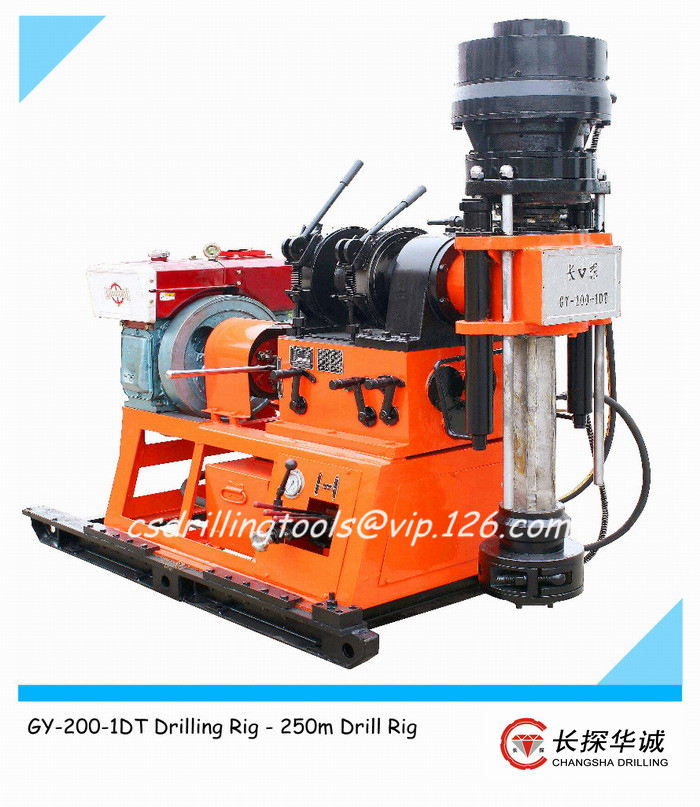 Features:
1. Decent gearing speed with large rotary range
2. Low speed drilling with large torque is suitable for piling work and drilling sampling.
3. Equipped with Hydraulic cylinders for traveling on frames, hence the rig is able to move freely at 300mm, which greatly handing drilling stems
4. Hydraulic feeding, easy operation, high drilling efficiency, less human efforts.
5. Compressed structure, small dimension, light weight
6. The rig has upper, lower chuck for reliable drilling rods tightening, able to adapt to different drill rods, drive pipe is not necessarily required; lower chuck is arc shaped with strong clamping ability.
Technical Figures
Drilling Capability

Spindle Turnable Angle

0°~ 360°

DCDMA drill rods (wireline core drill rods)

BQ – 245 m

NQ – 200 m

HQ – 160 m

Rotary Table

Rotated speed forward

900, 475, 388, 205, 157, 68 r/min

Rotated speed reverse

256, 85 r/min

Max torque

2000 N*m

Feeding travel

400 mm

Max feeding force

29 KN

Max lifting force

39 KN

Hoist

Bobbin diameter

135 mm

Rope diameter

12.5 mm

Bobbin capacity

30 m

Single rope hoisting capacity

30 KN

Single rope max hoisting speed (2nd layer)

0.27, 0.64, 0.83, 1.58, 1.64 m/s

Oil Pump

Model

CBF-F420-ALPL Gear Pump

Displacement

20 ml/r

Rated speed

2500 r/min

Rated pressure

20 MPa

Max pressure

25 MPa

Power

Model

Y160L-4 (Electric Motor), ZS1110 (Diesel Engine)

Power

15 KW (Electric Motor), 14.7 KW (Diesel Engine)

Speed

1460 r/min (Electric Motor), 2200 r/min (Diesel Engine)

Weight

144 kg (Electric Motor), 180 kg (Diesel Engine)

Frame

Type

Sliding (with sliding frame base)

Rig travel

400 mm

Distance away from hole

270 mm

Dimension (length * width * height)

1820 * 980 * 1650 mm

Weight without engine

750 kg