GY-300T Drilling Rig
Specifications
GY-300T is equipped with hydraulic lifting and lowering drill tower, large torque, long feeding travel, hydraulic feeding&clamp.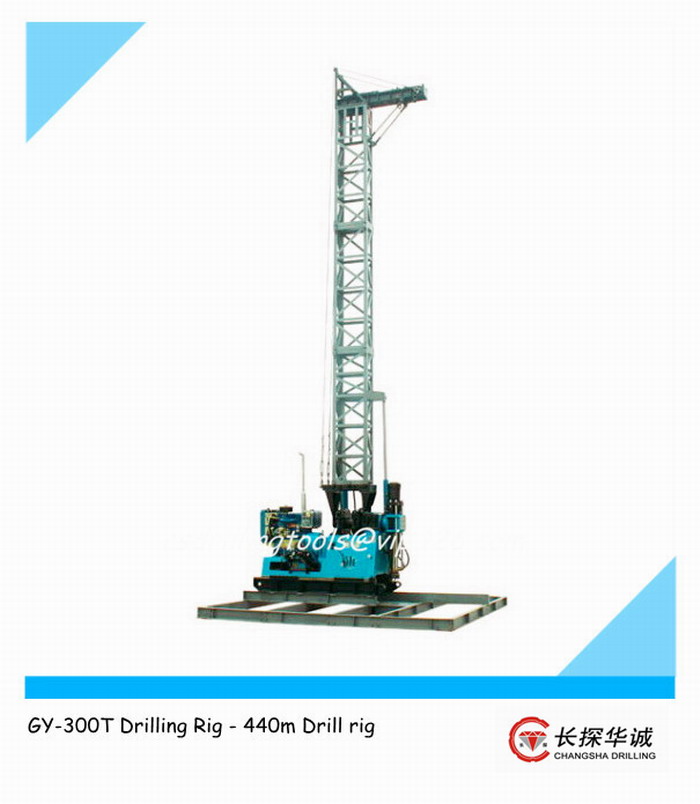 Features:
1. Rotary and Percussive Drill Ability;
2. Flexible Drilling Angles.
3. Hydraulic Lifting and Lowering Drilling Tower
4. Multiple Gear Speed, large torque for carrrying out various tasks.
5. Two Reverse Gear Shift, easy to cope with accident.
6. Spindle stroke 600mm, improves drilling efficiency, reducing the possibilities of stalling and damage to drilling tools..
| | |
| --- | --- |
| Drilling Capability | |
| Wire Core Drill Rods BQ drilling depth | 440m |
| Wire Core Drill Rods NQ drilling depth | 290m |
| Wire Core Drill Rods HQ drilling depth | 195m |
| Wire Core Drill Rods PQ drilling depth | 135m |
| Drilling Angle | 0~360 |
| Engine | |
| Elec-Motor (Y180L-4) | 22KW, 1470 r/min, 190kg |
| Diesel (4L68) | 24KW, 1500 r/min, 215kg |
| Rotary Table | Dual Cylinder Hydraulic Feeding Mechanic Rotary |
| Spindle Through Hole Diameter | 80mm |
| Forward Spindle Speed | 58 101 160 221 234 406 640 885 r/min |
| Reverse Spindle Speed | 46 183 r/min |
| Max Torque | 3000Nm |
| Spindle stroke | 600mm |
| Max Lifting Force | 60KN |
| Max Pressing Force | 100KN |
| Hydraulic System | |
| System Pressure | Nominal Pressure 8Mpa, Max Pressure 10Mpa |
| Oil Pump | Type: Gearing Pump (CB-E25) |
| Displacement | 20mL/r |
| Nominal Speed | 1500r/min |
| Nominal Pressure | 16Mpa |
| Max Pressure | 20Mpa |
| Drilling Tower | |
| Height | 9m |
| Angle Adjustable | 45~90 |
| Lifting Capacity | 9.6KN |
| Dimension(LxWxH) | 4×4×9m |
| Weight(include underframe) | 1300kg |
| Frame | Type: Skiding |
| Rig Travel | 460mm |
| Away from Hole | 260mm |
| Dimension(LxWxH) | 2510×950×1820mm |
| Weight(engine not included) | 1300kg |