GY-200-1T drilling rig
Product No.:2014123153421
GY-200-1T drilling rig

Introduce:

GY-200-1T engineering drilling rig is a portable and multifunctional drill machine used in engineering investigation and construction, which integrates the machine and its tower, and developed referring to our GY-200-1A. It is mainly applicable to the engineering geological survey of industrial and civil construction, railway, bridge and hydropower, as well as the construction of small-bore foundation pile.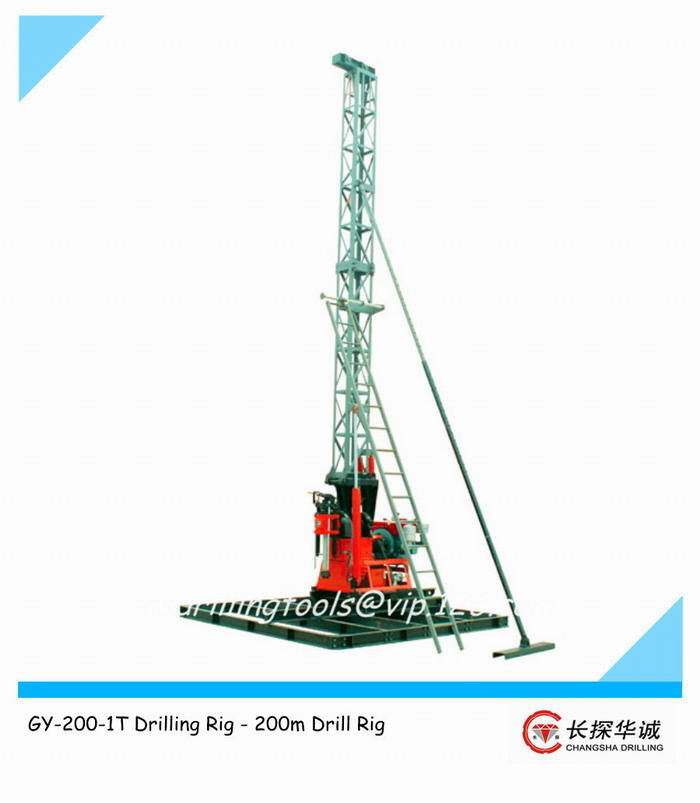 Main features:
1. Wide range of rotation speed, reasonable shift.
2. Low rotation speed, high torque, applicable to sampling and pile-hole construction.
3. Being equipped with cylinder, which can move back and forth, whole drilling rig can be moved 300mm freely, it is helpful for putting in and pulling out of drilling tool.
4. Easy operation, high efficiency and low labor intensity due to hydraulic feed,.
5. Drill tower is firmly and stable, easy to be installed. Furthermore relocation easy due to few separated parts, and regulating the inclination is convenient and flexible.
Basic Parameters

Drilling depth (@diameter)

290m(@46mm), 225m(@76mm), 60m(@300mm)

Drill rod diameter

50mm or 42mm

Spindle turnable angle

0°~ 360°

Weight(not including the engine)

670kg

Dimension

1820 * 980 * 1400mm

Rotary Table

Spindle speed

900, 478, 388, 205, 157, 68 r/min

Spindle speed(reversal)

256, 85 r/min

Maximum torque

2000N*m

Driving travel

450mm

Max. Cylinder driving force

2,9000N

Max. Cylinder lifting force

3,9000N

Lifter

Lifting capacity(single pipe)

3,0000N

Bobbin line speed (2 layers)

0.27, 0.64, 0.83, 1.58, 1.64 m/s

Bobbin diameter

135mm

Rope diameter

12.5mm

Rope capacity

30m

Oil Pump

Type

CBF-F420-ALPL Gear Oil Pump

Displacement

20ML/r

Rated Speed

2500r/min

Rated Pressure

20MPa

Maximum Pressure

25MPa

Power

Rated Powder

14.7KW (ZS1110-diesel motor), 15KW (Y160L-4 -electric motor)

Rated Speed

2200r/min (ZS1110-diesel motor), 1460r/min(Y160L-4 -electric motor)

Weight

180kg(ZS1110-diesel motor), 144kg(Y160L-4 -electric motor)

Frame

Type

Sliding type with base frame

Movable travel of drill

400mm

Distance

270mm (between drill and hole-opening)

Drill Tower

Vertical height

7.2m

Adjusted angle

90°~180°(can drill horizontal hole)

Lifting height

7m

Dimension

2.4 * 2.2 * 7.48m

Weight including frame

900kg