XY-4 Core Drilling Rig
Product No.:2013112511429
XY-4 Core Drilling Rig
XY-4 is a core drilling rig for middle and shallow hole. It not only can be used for hard alloy drilling, engineering geological reconnaissance, drilling of fluid mineral in superfical layer and natural gas exploitation, but aslo can apply to small diameter drilling of metal or nonmetallic materials and solid deposit with diamond bits. It has been widely used on areas such as road and railway construction, water resources and hydropower and architecture.
Features:
1): the drilling rig adopts vehicle transmission case and clutch, with simple structure and rational layout. It runs stably, with lower noise and high transmission efficiency, and is easy to dismount and assemble.
2): it has a rational speed range, more speed grades, big low speed torque and a wide application range
3): the drilling rig is equipped with a water brake device, which is convenient for deep-hole drilling and is safe and smooth to perform drill tool lowering
4): two gear reverse speeds, easy for dealing with the in hole accident
6): advanced structure and rational layout, convenient for maintenance and serving.
7): the drill rig is small in volume, light in weight, and easy to be disassembled and moved
8): has long feeding travel of vertical shaft, which is beneficial to improve drilling efficiency and reduce the probabilities of bit-jam and bit-burnt accidents
9): the machine can be moved steadily and fixed firmly with a lower gravity center and good stability during the high-speed drilling
10): it is equipped with a few operating handles, with rational layout and flexible and reliable operation
11): the hydraulic plunger chuck is adopted, with reliable clamping operation and free from damaging the drive pipe
XY-44AT is model developed on the basis of XY-44A, which is integrated with a hydraulic tower system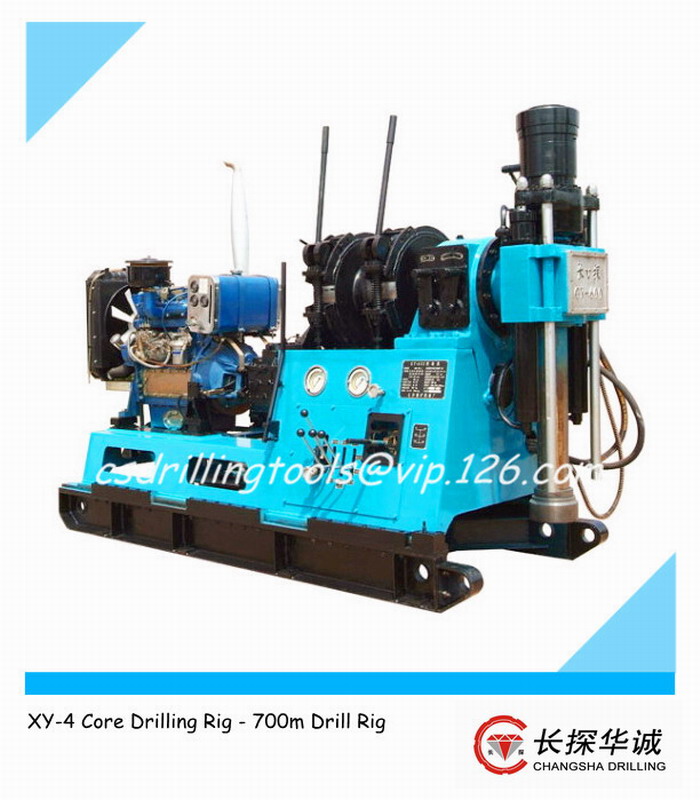 Technical Figures
Drilling Capacity

Drilling Depth

600m~700m

Power

Model

Y225S-4-B35 (Electric Motor), 495K (Diesel Engine)

Power

37 KW (Electric Motor), 36.8 KW (Diesel Engine)

Rated speed

1480 r/min (Electric Motor), 2000 r/min (Diesel Engine)

Rotary Table

Type

Double cylinder feeding and mechanical rotation

Spindle diameter

80 mm

Spindle speed forward

48 87 150 230 327 155 280 485 745 1055 r/min

Spindle speed reverse

52 170 r/min

Max torque

5757N*m

Spindle Stroke

600mm

Max uplifting force of spindle

80 KN

Max feeding force of spindle

60 KN

Oil Pump

Type

Wheel oil pump

Oil pump type

CB-E40 (Electric Motor), CB-E25 (Diesel Engine)

Oil pump displacement

40 ml/r (Electric Motor), 25 ml/r (Diesel Engine)

Oil pump rated speed

2000 r/min (Electric Motor), 2000 r/min (Diesel Engine)

Oil pump rated pressure

16 MPa (Electric Motor), 16 MPa (Diesel Engine)

Oil pump Max pressure

20 MPa (Electric Motor), 20 MPa (Diesel Engine)

Dimensions

2850*1050*1900mm

Weight(power not incluced)

1600kg