QDW-50 Drilling Rig
Product No.:20131115144949
QDW-50 drilling rig is a kind of fully hydraulic, modularized and portable exploration drill rig for mountain area and it is a kind of new-style drill rig developed on the basis of the first generation of drills for mountain areas. It is mainly applicable to the drilling operation in soil layers and rock strata. It is widely applied to the drilling construction of areas without water. If necessary, this drill rig may also be matched with mud pumps to realize the mud drilling. It is characterized by reasonable structure, simple operation, stable performance and rapid & convenient handling or relocating.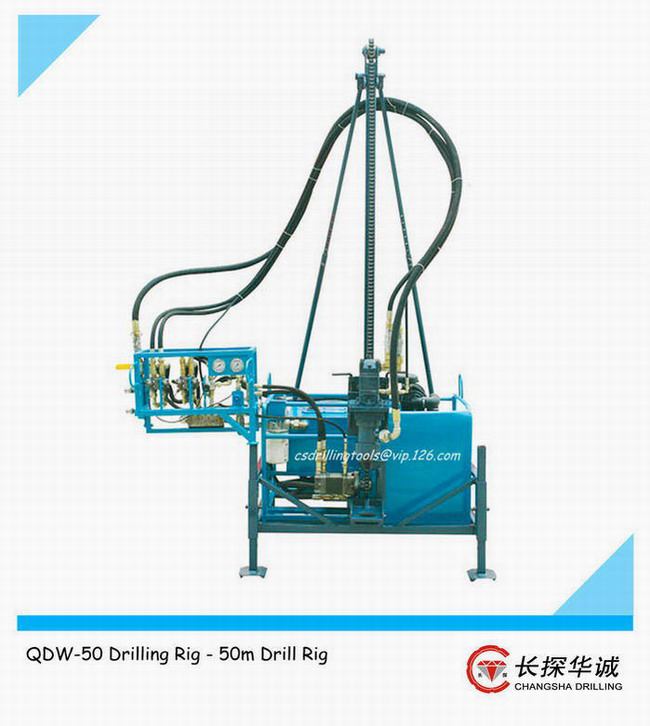 1): adopted optimum technical preference, bigger lifting capacity and torque, high work efficiency
2): main hydraulic elements, air compressor and powder system are all originally imported products, with good performance and reliable quality
3): the drilling rig is divided into 10 frame modules and the weight of the largest part is no more than 70kg; it is characterized by fewer parts for handling or relocating, light, weight, stronger dismounting performance and higher dismantling efficiency
4): the oil of its hydraulic system is supplied by two pumps by way of single pump and single loop, which enables the hydraulic system to be subject to reliable operation, fewer troubles and easy troubleshooting
5): the DC motor is used to drive the heat exchanger of hydraulic oil cooling system, with reliable radiating efficiency good performance
6): double padding forks are used to disassemble the drill pipe, which is characterized by convenient and efficient disassembly, and lower labor strength.
7): easy to disassembly drill rod and lower labour intensity
| | | |
| --- | --- | --- |
| | | |
| | | |
| | | |
| | | |
| | | |
| | Mud drilling (alternative) | |
| | | |
| | Drill pipe (Diameter * Length) | |
| | | |
| | | |
| | | |
| | | |
| | | |
| | | |
| | | |
| | | |
| | | |
| | | |
| | | |
| | | |
| | | |
| | | |
| | | |
| | | |
| | | |
| | | |
| | | |
| | | |
| | | |
| | | |
| | Net weight of drilling rig | Approx 600kg (not including drilling tools) |
| | | |
| | | |